Article: Ties and Pocket Squares Guide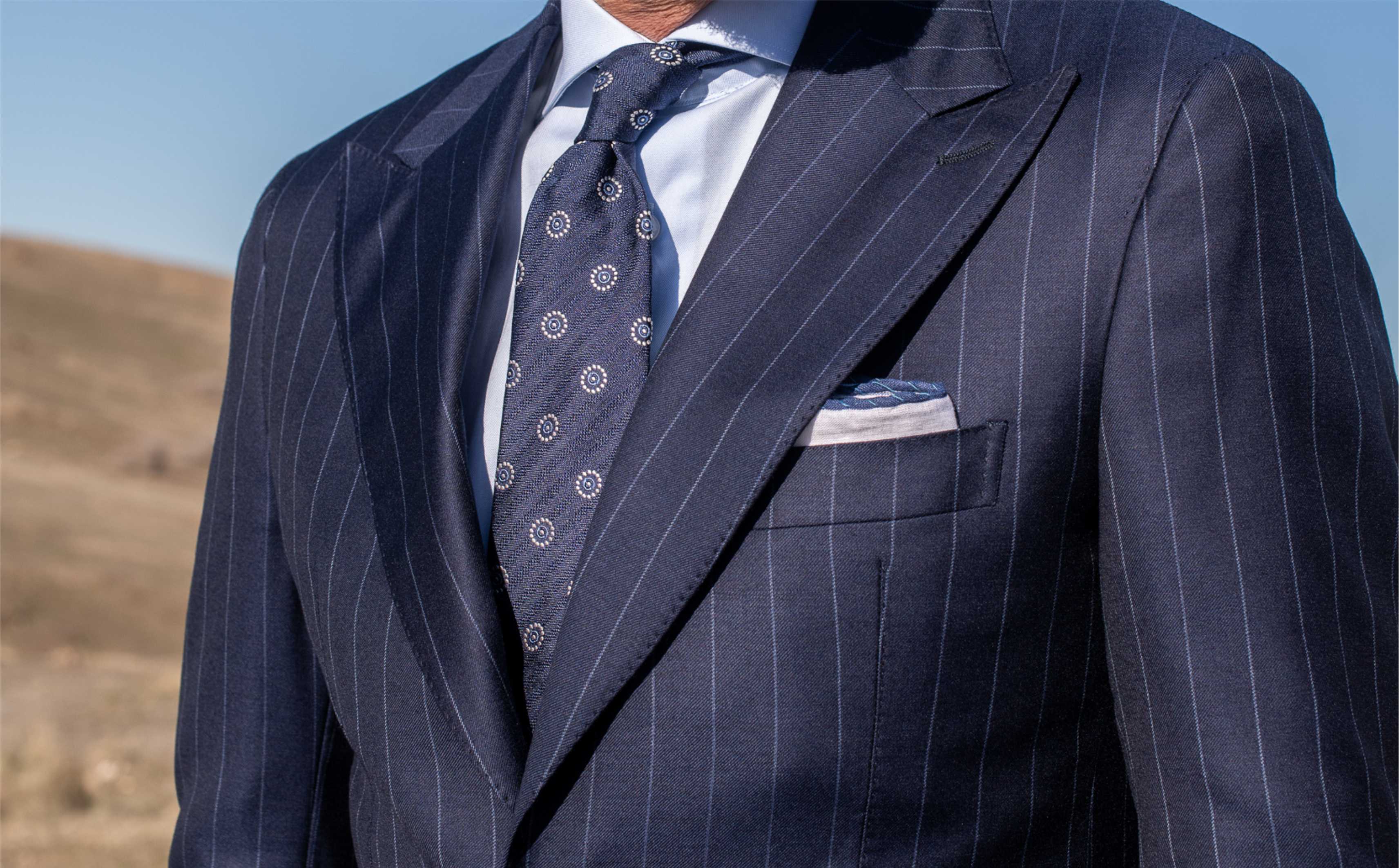 Ties and Pocket Squares Guide
THE TIE
Purely an aesthetic element, the tie, is the first thing that allows one to form an opinion on the style of a man because it gives a clue to the good taste of the wearer.
By highlighting the shirt collar, the tie allows you to complement or contrast your look. This accessory allows you to enhance your outfit by the addition of colours, textures and patterns.
Good quality ties are always handmade and are always fluid and flexible.
By definition, the 3-fold tie is known as the classic tie. It's called this way because it's folded three times.
                    Lined Tie - Unlined Tie
The Unlined or untipped tie is modern and lightweight. Made without inner lining it is the lighter choice for a modern and stylish look. A beautiful tie has a certain fluidity in its fall. It is for this reason that unlined ties are highly appreciated by Italians because they have a very particular lightness.
1- The Bar Tack near each tip, one will find a short horizontal stitch. This heavy stitch holds the two sides together and helps a tie maintain its shape. It reinforces and helps a tie maintain its shape.  
2- Tension Thread (slack yarn or slip stitched): The better ties are handmade and boast a slip stitch running through the entirety of the necktie – a loose piece of silk thread which allows the tie to retain its shape after wear.
3- The care and origin tag contains details and information about the country of origin, fabrics used and care instructions.
4- Untipped ends forego the addition of a finishing fabric and instead exposes the hem on the back of the tie.
5- The edge of this tie is hand-rolled. This ensures fullness at the edge as opposed to a flat crease.
Our advice on choosing a tie for the right look are:
1 - WIDTH AND LENGTH
Best to avoid excess: never choose a tie with a width smaller than 7 cm or larger than 9 cm, we suggest an 8 / 8,5 cm width, being the most correct size.
When choosing a tie, you should also take into account your morphology.
If you are tall and thin, avoid a tie which is too wide, where as if you have a stronger frame a thin tie would not suit you.
The length of the tie once knotted should touch the belt of the trousers.
As for the blades, they should be at the same length, and if one remains a little longer, then it should be the tail at the back.
Whether you prefer liberty or "nonchalance" do not use the loop to block the tail, we like to see the tail from time to time.
2 - FABRICS
Silk, wool, linen and cotton
- The tie by definition is of made silk, normally pure silk; this type of tie is suitable for almost all occasions and for all seasons and it becomes indispensable in the case of formal occasions and ceremonies. Silk ties are in fact more formal than those made of linen, wool or cashmere.
- Flannel or cashmere ties are suitable for the colder seasons, they are thicker than a silk tie, and they are best worn with flannel jackets and suits.
- Linen ties are the perfect choice in summer and spring, and sometimes they can also be worn in formal contexts because of the natural effect of linen which gives a chic look.
- Knitted cotton ties, which do not end with a tip but are flat and horizontal, are the most informal choice.
3 - PATTERNS
A pattern can be created with different techniques, according to which the ties can be divided into categories:
- WOVEN, designed by weaving different colored threads to create geometrical patterns like squares, rhombuses and circles, with shades of blue, white and grey.
- PRINTED, designed by direct printing on dyed raw silk which is already sewn.
Keeping this in mind one can divide the ties into: Striped, polka dot, paisley, geometric and plain ties.
The British and the Europeans wear the striped tie from left to right, while the Americans wear it from right to left; When we talk about left and right, we refer to the shoulder of the wearer.
United ties are essential to mitigate an already busy patterned and quite complex dress; we can still play with the texture and variations of tone on tone.
Satin for the evening, twill and grenadine for the day, the tie is always a great solution.
4 - COLOR
The predominant color of your tie should be in accordance with a color present in your shirt or jacket or a complementary color of both. The tie's color serves to maintain the right harmony of colors, and for the most daring to breakaway and give a touch of character to ones look.   
You can also vary the color of your tie according to the seasons: bright colors or natural shades in spring and summer, and dark shades in autumn and winter.
5 THE TIE KNOT 
In Italy the art of knotting a tie I handed down from father to son, it hen evolves according to one's style and also according to fashion.
Pini Parma privileges two tie knots: the single knot (four-in-hand) and the half Windsor.
Some knots should only be used with certain shirt collar types, others only with certain types of neckties, and others depending on one's morphology. A wide neck requires a wide knot, a thin narrow neck requires a tight knot. But one criterion is certain: the knot must be tight, Solid, centered, and especially compact. One must also make sure the knot covers the first button of the shirt.
Avoid wearing a tie with a button-down collar unless you are wearing it with the collar buttons open.
Four-in-hand
A thin knot that is fitting for almost all ties and necks.
It is the most versatile and easiest knot to make and its conical shape favours a variety of morphology of the upper shoulders.
The half Windsor
Simple and elegant at the same time; It has a more pronounced triangular shape compared with the simple knot.
This is a perfect choice for shirt collars with a medium opening when wearing a fine tie.
Whether it's simple or half Windsor, everyone agrees on the importance of having "gout" by allowing a slight hollow under the knot of the tie.
And finally, it is better to forget the pincer!
THE POCKET SQUARES
As small as it is, the pocket square has an eternal elegance and a strong impact. Always add a personal touch of sophistication and brings a note of contrast to any outfit.
If you wear a light suit, choose a dark or colored pocket square. Conversely, with a dark suit, a clearer colored pocket square is preferred.
When wearing a tie, never match the pocket square too closely to the tie.
The white pocket square (uniform or with discrete patterns) is a very versatile object, it adapts itself very easily to classic business outfits, but also to a more casual layout. We always recommend choosing a uniform colored pocket square with small colored details which reflect the dominant color of your outfit.
IT MUST ALSO BE PROPERLY FOLDED!
Pini Parma privilege 3 types of folding:
THE FLAT FOLD
Cotton, wool and linen pocket square are ideal for this type of folding because these fabrics perfectly maintain the folds. Folding is easily carried out and it readily adapts to any outfit.
It is particularly suitable for "black tie" events and when wearing a tuxedo
For a perfect fit, the pocket square must fill the pocket. This will prevent it from slipping and ends up in the back of the pocket.
THE THREE-POINT FOLD
 More daring and brings a touch of elegance to your outfits.
THE PUFF FOLD
For an elegant and relaxed style, principally made of mix cotton and linen.
Discover our Ties and Pocket squares collection.
If you have any doubts about match a tie or a pocket squares for your look, send us a photo by email info@piniparma.com or via WhatsApp: +33 777775018
We will be happy to give you our advice.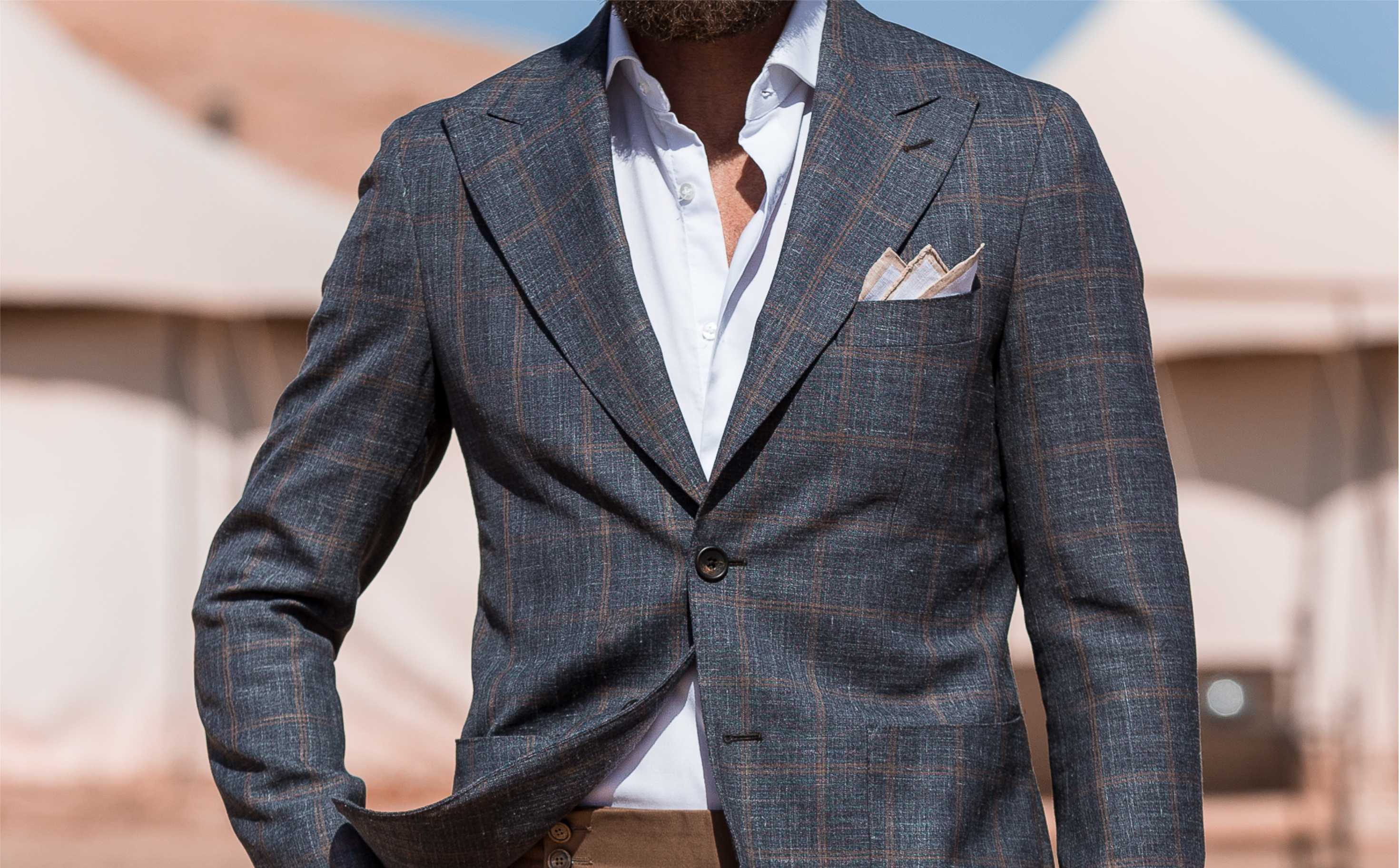 OUR NEAPOLITAN JACKETS We have decided to go for the Signature Cut, whether we want to purchase a Ready-to-wear Jacket or a Suit. The Shoulder  is clearly one of the most distinguished feature that...
Read more