Article: Ready-to-Wear (RTW), Made-to-Order (MTO) and Made-to-Measure (MTM)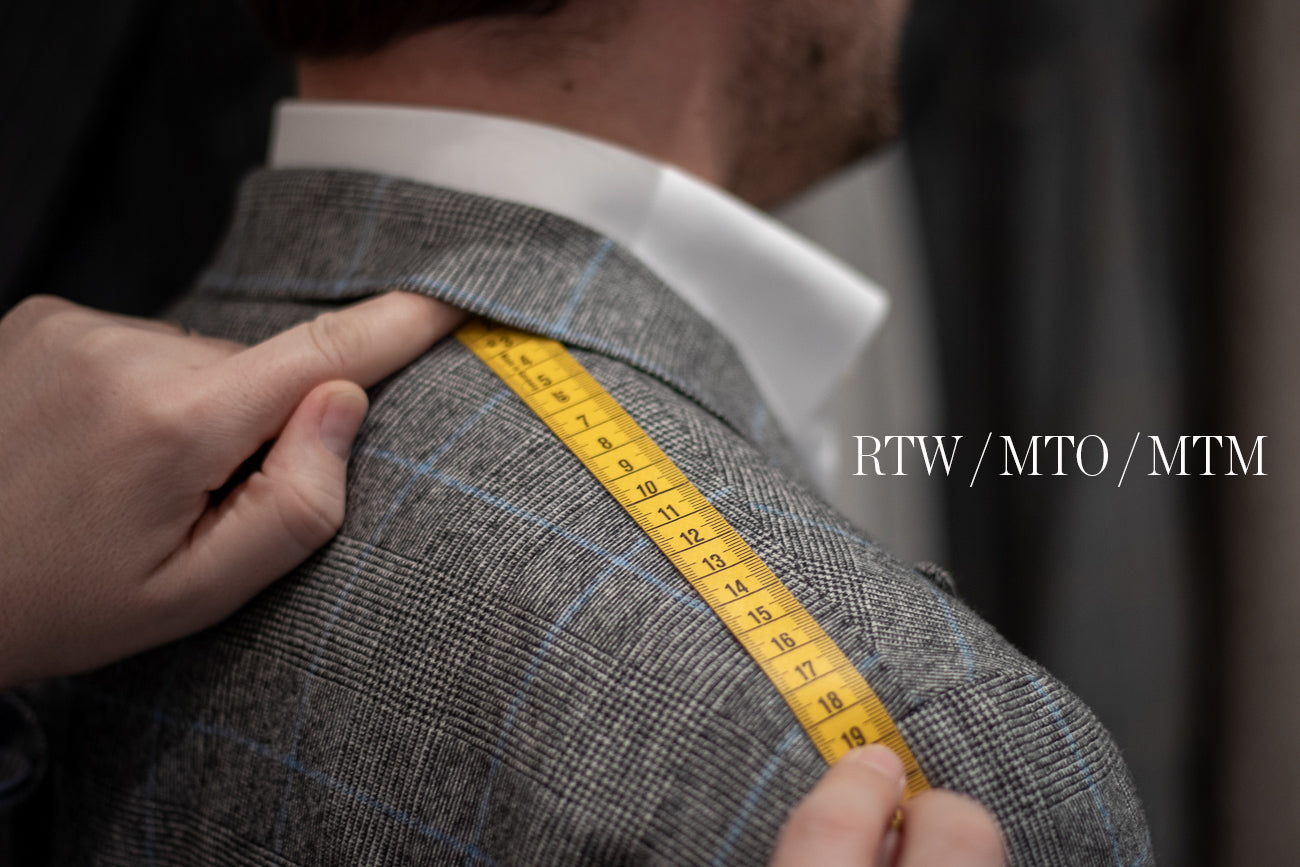 Ready-to-Wear (RTW), Made-to-Order (MTO) and Made-to-Measure (MTM)
Nowadays, making the distinction between the terms Ready-to-Wear (RTW), Made-to-Order (MTO) and Made-to-Measure (MTM) can sometimes be quite challenging.  Which one of these will suit your needs and budget the most ?
A Ready-to-Wear garment is, literally, "ready" to be worn. It is produced based on an existing pattern that is unique to each brand and intended for a high amount of production. 
As every brand has a different ready to wear pattern, a size 48 from brand A might fit your morphology perfectly whereas brand B's size 48 will not suit as good. Consequently, this is why the "Drop" (difference between the chest width and the waist width) is a major reference point when it comes to ready to wear garments. 
Indeed, a Drop 7 is recommended for a "V" shaped body type whereas a Drop 6 will be more appropriate for "H" shaped body type. 
At Pini Parma, our ready-to-wear collection features sartorial details and finishing touches without the limitations of time and budget for MTM and Bespoke. 
Immediacy and affordability are two of the benefits of ready to wear: if the garment suits you well and you are happy with the fit, you can take it home the same day if no alterations are needed. Budget wise, ready to wear is of course more affordable and consequently more accessible than Made to Order or Made to Measure. However, as the pattern is standardized, it will not be adapted to all body types and their subtleties. 
Therefore, Pini Parma offers an alternative to ready to wear: Made to Order (MTO). 
This service allows you to customize your suit, jacket or trousers and offers you a high quality product at an attractive price point that carries all the details of an Italian made garment. 


Based on our pattern and it's characteristics, you can select fabric from the most renowned cloth mills: Loro Piana, Marling & Evans, Drago, Drapers, Hunddersfield & more...) and stylistic details, such as the type of pockets and lapels. We also offer you the possibility to modify one measurement such as the sleeves' length or the waist's width. For example, if you prefer a longer jacket, you have the possibility to order one of our fits (single or double breasted) in the fabric you will have selected and the jacket's length will be adjusted to your choice. 
The next step will be to, if needed, finish your garment with extra alterations thanks to our local tailor or your own tailor. 
When ordering an MTO suit, you will not have to face the Drop restriction of a ready-to-wear suit, meaning that ordering a jacket in size 50 and a pair of trousers in size 48 is totally possible. Our Made to Order service also offers you the possibility to add a waistcoat or a second pair of trousers if there is enough fabric available. 
Made to Order allows you to appropriate Pini Parma's pattern and let your imagination run free, especially regarding the cloth choice. The measure modification included in this offer will adapt our pattern to your morphology in the best way possible. It is a good esthetic and price compromise between ready to wear and made to measure. Your order will be delivered in 5 to 6 weeks. 
Discover our MTO Collection here
Finally, we also offer a service that allows a greater scope of self-expression: Made to Measure (MTM). 


The cloth offer is the same as with our MTO program. 
Distinction has to be made between Bespoke and Made to Measure: Bespoke consists in the creation of a completely new and unique pattern whereas Made to Measure consists in the modification of an existing pattern. 
Within our Made to Measure service, we are able to modify 40 different points of our pattern such as the sleeves' length or the jacket's length but also more complex features such as the shoulder height and take into consideration your posture in order to guarantee a perfect fit. 
This program lets you create a unique garment. For example, it can be a fully canvassed "three roll two" jacket featuring a patch chest pocket, double AMF stitching (2 and 6 mm), 28 cm double side vents, customized initials... We advice you to stay close to our DNA in order to fully appreciate the benefits of Italian elegance.


Therefore, MTM will the most complete offer, customization and measures wise. Hence, it also is the most onerous one. Your garment will be delivered in 5 to 6 weeks. 
Our team will be more than happy to guide and advise you through the entire process, depending on your personal needs, from the choice of the cloth until the final adjustments. 
R.Chesnel
Feel free to get in touch with us through our dedicated WhatsApp number if you have any inquiries: click here (+32491988799)
If you need advice or additional information contact us
email info@piniparma.com
We will be happy to give you our advice.
What do we mean by a full canvas suit?
The true character of a suit is often defined by its fit, quality of fabric and its construction. Construction plays a large role in the overall quality of a suit. What do we mean by a full canvas ...
Read more