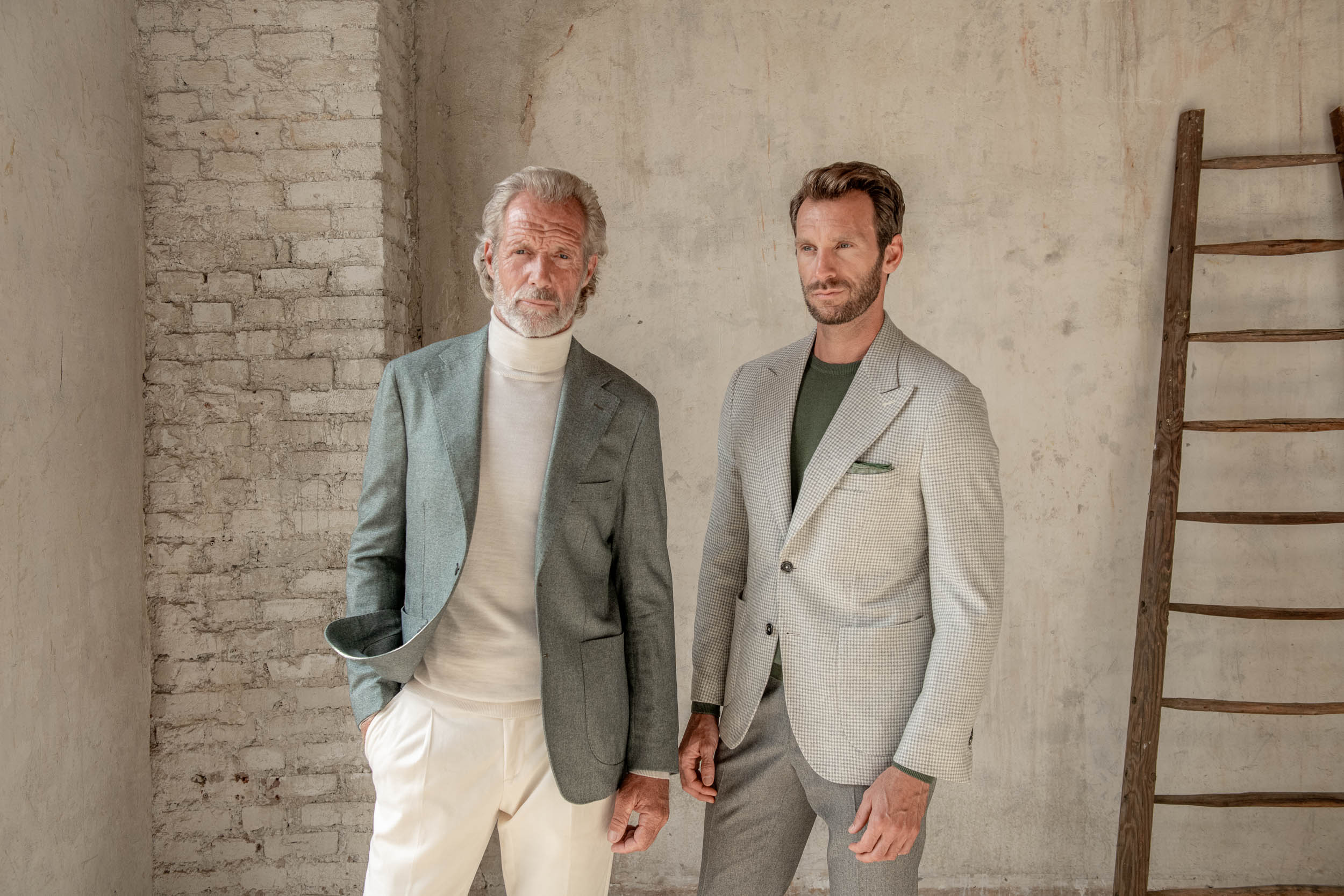 Broken Suit: the Art of mismatching a suit
In Italy the art of wearing a suit jacket with different pants, has a name :
"Abito Spezzato".
This art is one of the secrets of elegance and requires a personal touch of creativity and audacity.
We will now give you some tips on how to match the various garments in your wardrobe, following some simple rules for a perfect "mismatching".

1 - We start from the basics: we can not match a winter jacket with summer trousers and vice versa. Choose two pieces that share similar fabric and textures. Example don't wear a flannel jacket with s100 trousers or vice versa

2 - Play with the colors:
Solid + Solid
If you combine two solids, make sure that one of the colors stands out more to create a contrast in your outfit. Blue with grey or beige. Green with white.
You can choose two different tones of the same color ( light grey with dark grey or beige with grey) and experiment with patterns like below (light grey houndstooth jacket + medium grey trousers)
and DON'T Mismatch blue with black please! or even worse brown with black. 
3 - Appropriate features and details : To be able to be used with different trousers, the jacket of a suit should ideally have:
- Neapolitan shoulder/ shirt shoulder;
-The patch pocket
- Unstructured construction
4 - The most common Mistake : mismatched a classic suit without soft shoulder and with welt pockets (with or without flap) in 130s wool blue or grey.
5 - Observe the etiquette : for a job interview, an important meeting or a ceremonies a classic blue suit is the most appropriate choice. In this case is better avoid the mismatched look.
6 - Mismatching but with "Sprezzatura" : wearing your personal look with absolute nonchalance, typical of the Italian style.
7 - Avoid black shoes when you mismatch ; brown shoes will be much better, you can also try dark blue shoes. 
8 - Try to wear loafers or sneakers with your mismatch , you will give a twist to your style.
 9 - Go for a casual fold pocket square to your suit jacket, this will help to show that its a jacket and not a suit.   
 10 - Don't forget to open 2 of your sleeves button this will help to your casual look.
11 - Be sure that the suit jacket that you are missmatching is not too long, jacket are basically 1-1.5 cm shorter than a suit.
12 - Instead of wearing a classic shirt go for a denim shirt or a polo shirt with long sleeves.
13 - Coordinate the colors : if you have different colors on your jacket try to combine the colors with your shirt / polo shirt and trousers.
14 - During the winter season wear a turtleneck under your jacket this will give you a sophisticated look.
Now when you buy a suit think twice if the jacket could be worn as a casual jacket and if the pants could go with another jacket, so you will have multiple looks instead of only one look.
If you have any doubts about a mismatched look, just send us a picture via email or whatsapp and we will be glad to give you our opinion !

info@piniparma.com
whatsApp +33 7 84 53 09 35

Do not forget to share this guide with who you think might need it ;)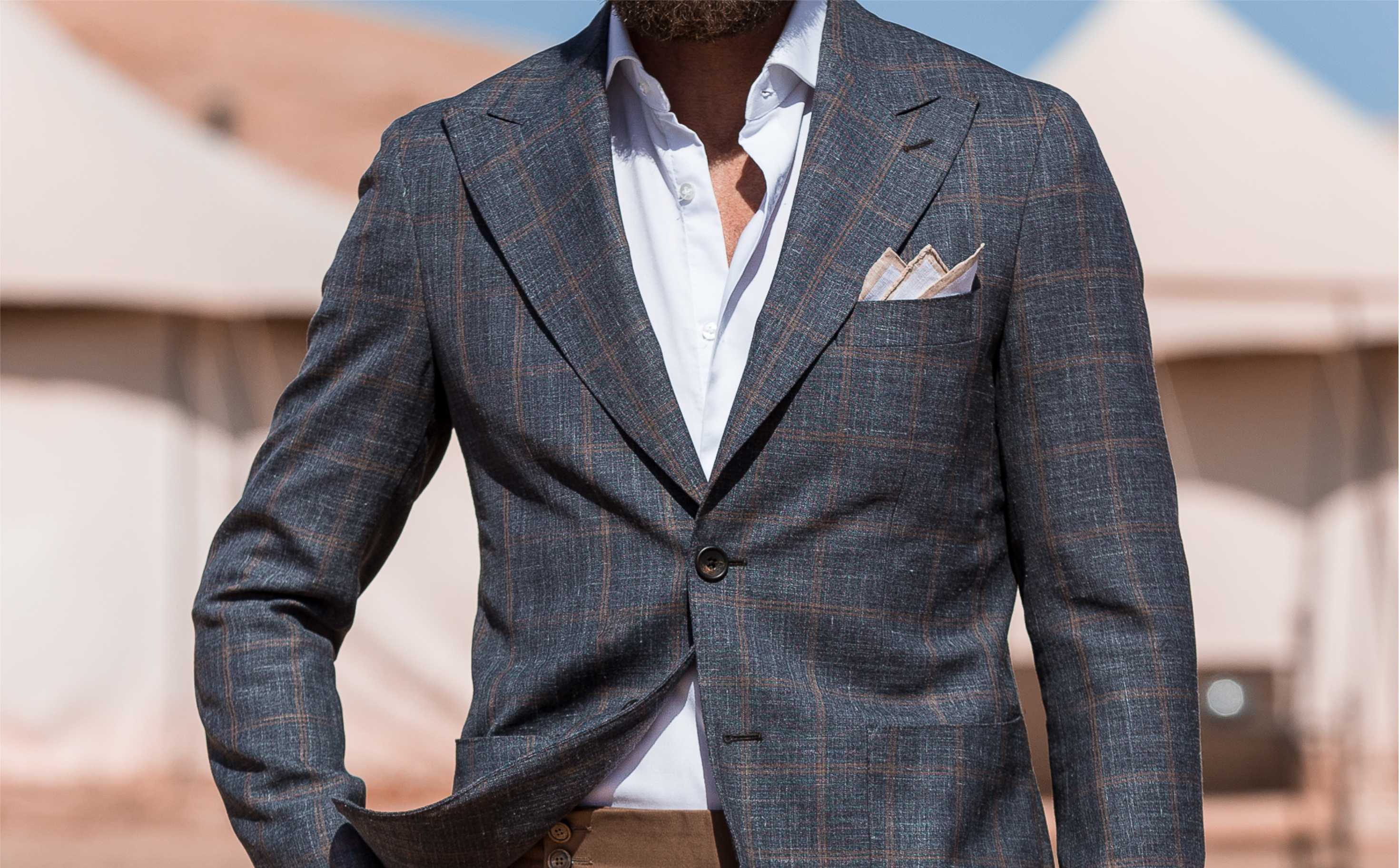 OUR NEAPOLITAN JACKETS We have decided to go for the Signature Cut, whether we want to purchase a Ready-to-wear Jacket or a Suit. The Shoulder  is clearly one of the most distinguished feature that...
Read more
What do we mean by a full canvas suit?
The true character of a suit is often defined by its fit, quality of fabric and its construction. Construction plays a large role in the overall quality of a suit. What do we mean by a full canvas ...
Read more